Award-Winning Top Design Trends That Every Modern Home Should Have
Our collected accolades from the 2023 Triangle Parade of Homes are a testament to our dedication to impeccable home design. Our Promenade model bagged a bronze medal overall, shining brightly amidst an assortment of beautiful homes in the competition. But that's not all. Our rooftop terrace, a feature we adore and promote as a must-have, won a red ribbon as a judges' favorite feature.
Over the span of three weekends, we had the pleasure of hosting over 250 individuals, all of whom were keen to tour our well-thought-out luxury townhome. The feedback was a satisfying affirmation of our efforts, with overwhelmingly positive reactions from everyone who stepped through our doors.
Here's the list of the top interior design trends that our Promenade model boasts, all the tour attendees buzzed about, and why you need to look for these features in all modern homes.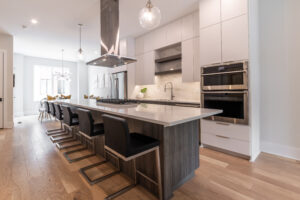 Oversized Kitchen Island
Let's start with the heart of the home — the kitchen boasting our oversized kitchen island. Serving as a majestic centerpiece, for our open-concept main level, our islands offer ample space for cooking, working, and entertaining. It's not just a culinary station but a social hub where memories are cooked and shared over hearty meals. This trend is an ode to the modern-day love for spacious, functional, and social kitchens; making it a sought-after feature in new homes.
Ample Closet Space
Speaking of a delicious meal, let's talk about something we all crave – ample closet space! The trend of having spacious closets is a small victory for all the fashion enthusiasts out there. It's not just a place to stash your clothes anymore, but a space where you can flaunt your style, and have fun deciding your look of the day. We include large custom wooden closets from the kitchen pantry to the primary bedroom closet and a modern-day essential in all new homes.
Dedicated Home Office
With more of us working from home, having a dedicated home office space is the new norm. A well-designed office space fosters productivity, ensuring a seamless work-from-home experience. The Promenade office located on the Terrace level offers a perfect blend of comfort, privacy, and functionality, facilitating a conducive work environment. We even added a pop of color and large art from a local artist to add some fun to your next Zoom call.  The dedicated office space trend in new homes is a testament to the changing modern work dynamics and is essential for a well-designed home.

Rooftop Terrace
After leaving the office, escape to your private outdoor rooftop terrace. The modern homeowner's preference for a slice of outdoor serenity amidst urban chaos has birthed the trend of rooftop terraces. It's not just about having an outdoor spot, but a space where you can soak up the sun, enjoy panoramic views, and have your slice of peace amidst the city hustle. Our spacious rooftop terrace was the Triangle Parade of Homes judges' favorite feature and we understand why. The trend for having an outdoor haven is here to stay.

Location, Location, Location
On the topic of panoramic views, the cherry on top of designing a new home is its location. It's all about finding that sweet spot where you have the buzz of the city, yet the calm of nature. A place that's close to the goodies of urban life, but not too far from a refreshing green patch. That's why our Downtown Durham location only seconds away from all the nightlife and amenities while surrounded by greenspace is the ideal location.
In conclusion, the modern home needs to be a harmonious blend of thoughtful design, functionality, and comfort. Our success during the Triangle Parade of Homes is a shining example of how well-received these modern trends are, and we are thrilled to keep innovating and bringing you homes that are not just beautifully built, but thoughtfully designed for modern life.
If you'd like to experience these top interior design trends in person, call our Sales Team at (919) 213-0520 to schedule a private tour today.
The Triangle Parade of Homes is comprised of four individual associations: The Home Builders Association of Wake County, the national brand "Parade of Homes", the local Parade of Homes of Durham, Orange, & Chatham Counties, and the Durham, Orange, & Chatham County Home Builder Association. So when the article above refers to the "Triangle Parade of Homes" it's referring to all four organizations. More information about the Triangle Parade of Homes can be found their website.